Germany is expected to drive capacity growth in Europe's liquefied natural gas (LNG) regasification industry from planned and announced (new-build) projects during the outlook period 2019 to 2023, according to analytics company GlobalData.
In turn, this will contribute around 31% of Europe's total growth, the data and analytics company highlighted in a statement.
The company's report, 'LNG Regasification Industry Outlook in Europe to 2023 – Capacity and Capital Expenditure Outlook with Details of All Operating and Planned Regasification Terminals', reveals that Germany is expected to have a new-build regasification capacity of 635 billion cubic feet (bcf) by 2023.
Dipayan Chakraborty, an oil and gas analyst at GlobalData, comments: "Wilhelmshaven Floating and Brunsbuttel are the two upcoming announced regasification terminals in Germany during the 2019 to 2023 period.
"Both the terminals are expected to start their operations in 2022, with the Wilhelmshaven Floating terminal expected to add the highest regasification capacity of 353bcf by 2023."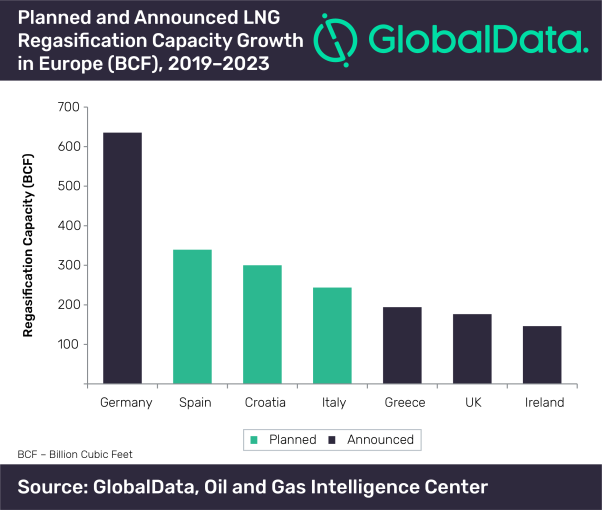 Following Germany, GlobalData identifies Spain as the second-highest country in terms of regasification capacity growth in Europe adding a new-build regasification capacity of 339bcf by 2023.
See more LNG-related news stories here
Spain's El Musel terminal is expected to have the highest capacity among planned and announced terminals with 247bcf of capacity by 2023.
Chakraborty concludes: "Croatia has no active regasification terminals currently. The country is expected to add all of its new-build capacity growth from two planned regasification terminals, Croatia Floating and Hrvatska by 2023. Of these, the Hrvatska terminal is expected to have the highest regasification capacity of 211.8bcf by 2023".