Higher energy prices to drive up global inflation to 3.23% in 2021, says research.
Across Europe, the shortage of coal has resulted in higher production costs for manufacturing companies and the global inflation rate is forecast to rise from 2.50% in 2020 to 3.23% in 2021 as a result.
Research company GlobalData has, as a result, upwardly revised its 2021 global inflation rate forecast to 3.23% in October 2021. This is an upward revision of 0.22 percentage points when compared to June 2021.
"With many countries reopening their economies, manufacturers in China are witnessing a surge in demand for their goods," says Gargi Rao, Economic Research Analyst at GlobalData. "Rising demand, coupled with soaring costs of raw materials amid production cuts of coal, is driving up global prices of goods. Further, China's commitment to becoming carbon neutral by 2060 has added pressure on the reduction of coal production, thereby leading to a supply-demand mismatch.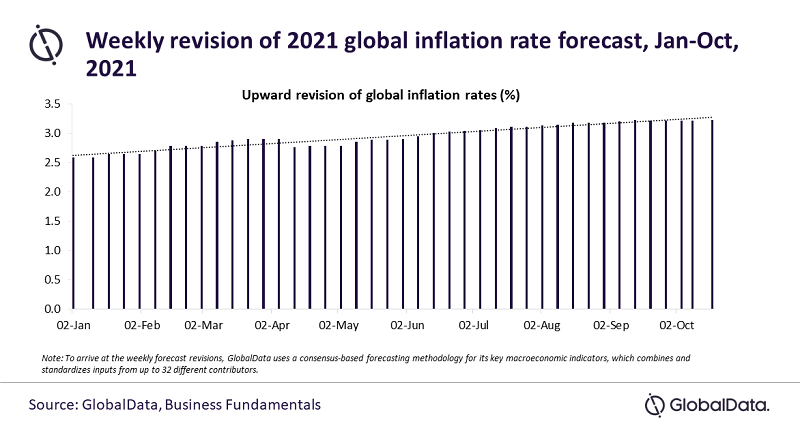 "Amid the global energy crunch, India is also facing a power crisis, with the country's power plants running on critically low coal stocks. Meanwhile, the UK witnessed many of its fuel pumps running dry due to poor logistics. Natural gas prices have also risen multifold in Europe," continued Rao.
You might want to read:
Interrogating LNG as baseload power source for Africa
With China and India's growth forecast downwardly revised, the Asia-Pacific (APAC) region's economic recovery is ambiguous. Global economies are facing a perfect storm ahead of a cold winter, rising energy prices and a spike in commodity prices. In the short term, such a trend might deter consumer spending and impact post-pandemic recovery.
Rao adds: "Despite Asian industries' dependence on coal, major countries including China, India and South Korea are focusing more on renewable energy.
"Technology already exists to enable the world to transition away from coal and other fossil fuels to green energy. Germany, which is one of the world's biggest users of coal, is aiming to phase out coal by 2038. Eight other EU countries have also committed to similar targets. The recent crisis around coal has highlighted that countries have an opportunity to shift to green energy and reduce their dependence on coal."